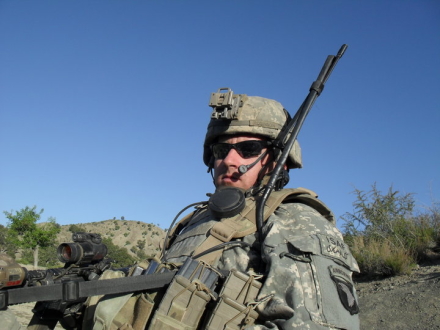 James Christopher Robinson Jr. was born on May 24th, 1983 and was raised in Monroe, Ohio. As a student, Jimmy took to soccer and the science club. No matter his team's record, Jimmy saw the best in his fellow players and always tried to keep an upbeat attitude. He was a graduate of Lemon-Monroe High School in the class of 2001.
Jimmy enlisted in the United States Army in February of 2005, shortly after marrying his wife, Kate. He had grown up with an appreciation for the military and a love for America. Both of his grandfathers were in the Army and thus set the foundation of pride and honor within him. He was assigned to the Alpha Company, 1st Battalion, 187th Infantry Regiment, 3rd Brigade Combat Team, 101st Airborne Division (Air Assault) out of Fort Campbell, Kentucky. SPC Robinson deployed for his first call of duty to Iraq in 2006. Thankfully, he came home to his wife, Kate, daughter, Emmy, and the rest of his family and friends. In September of 2007, Jimmy and Kate were blessed with another daughter, Tori. One week after Tori's birth, Jimmy deployed to Iraq for the second time. Again his family was blessed that he came home safely.
On February 6th, 2010, Jimmy's unit again deployed – this time their destination was Afghanistan. In April of 2010, Jimmy came home for mid-tour leave. On August 15th, 2010 SPC Robinson was promoted to CPL in Afghanistan. Thirteen days later, CPL Robinson was killed in action in the Bermal district, Paktika province, Afghanistan. In the early hours of August 30th, 2010, Jimmy was again on U.S. soil and upon his arrival was promoted to SGT. On September 6th, SGT Jimmy Robinson came home for the last time as family and friends escorted him. On September 9th, 2010, Jimmy was laid to rest as tears fell and goodbyes were said. However, SGT Robinson's legacy was far from over.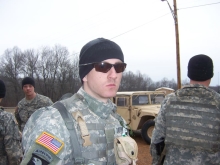 In the months following his death, his family continued to honor him. Many took his attitude and love for life to heart and saw the world how he saw it. Jimmy could make any moment memorable or more lighthearted by simply being himself. He was the kind of guy who could make you smile through any kind of pain and the kind of person that would make you a better person just from knowing him.
Jimmy was a dedicated soldier who would do any job asked of him. He never complained about any task in front of him – and to those who did, he would give his signature reply "SHABOOMS". Jimmy didn't see himself as a Hero, but to all who knew him he is nothing less than that. To quote him, "Everyone has a job, being a soldier just happens to be mine. It's a job. I just do it." Ever selfless, there is no doubt that Jimmy would do it all over again, without even a second thought. Family was the most important thing to Jimmy and that's why he did the job he did; He served to protect his family back home. His family also included his brothers at arms that he served with. His blood family was with him in spirit; his Army family was with him every step of the way until he took his last. SGT Jimmy Robinson would have taken the bullet for any of them before he would allow them to do so for him. It's just how he was, so selfless and loving.
"It takes more than a man to be a soldier, and more than a soldier to be a Rakkasan."