Shaboom's has worked hard over the last 6 years trying to make a difference within our communities to assist our young and aspiring future leaders. We have dedicated board members that thrive to make the greatest difference possible with all that has been given throughout the year by our donors and sponsors. Without the assistance of the communities involved and our hard working volunteers, this endeavor would be impossible.
The board of directors are excited to announce that this 2017 season we have decided to make a major change to our scholarship award. Shaboom's will now be giving ONE $10,000 scholarship to a graduating student living in Warren and Butler counties. We are hoping this change will impact the life of the recipient and assist them in obtaining their goals. Our scholarship will still be based on financial need and completion of the application process.
This year we have received more applications than ever before! The board of directors along with Sgt. Jimmy's siblings and children have been reviewing all applications and are working on choosing this years recipient! Thank you to all those who have applied! It has been a very difficult decision to make and we are loving it!!!!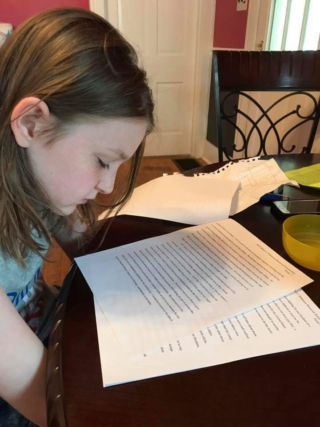 Sgt. Jimmy's daughter, Tori Ann Robinson, reading our scholarship applicants essays in order to help decide this year's recipient.