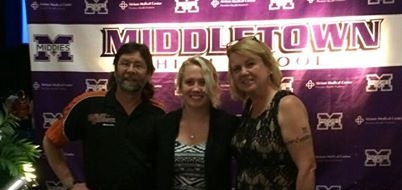 2016 Recipient's
Corey Dean
Bio: 
My name is Cory Dean. I have played soccer since age 4, including soccer at Monroe for 4 years. I have taken College Credit Plus classes at Miami both Junior and Senior year.  I enjoy spending my free time with my family and friends. I plan to go to Wright State after graduation, and graduate with a four year degree.
College attending in fall: Wright State
Micha Senft
Micha Senft       

Lincoln Markle

    Lincoln Markle
Madison Swartz

I'm Madison Swartz and I just graduated from Springboro High School. In high school I played varsity soccer for four years. I took lots of math and science classes and spent any spare time with friends and family or volunteering. I will be attending The Ohio State University in the fall with a major in biology. I plan to attend medical school and one day be a surgeon.
Khenady Leonard
Khenady leonard           

Jade Paris

2015 Recipients Bio's and Pictures
Reid Abney Middletown High School
Reid is a student athlete who attends Middletown High school. Reid is also involved with volunteering at places such as Hope House, Vacation Bible School, Soccer camps held at Middletown High school. Reid and his family are strong contributors to the Vietnam Veterans of America. In the classroom Reid is a gifted student, taking high curricular courses all through High school, such as AP statistics, Honors chemistry and Physics. He is also a member of Spanish National Honor Society making through all four levels of Spanish without once receiving lower than a B. Outside of school Reid spends the majority of his time playing soccer all over the country.Reid has played with his club Ohio elite soccer academy from the time he was 8 years old. Reid will continue to be a student athlete next year as he has committed to play soccer for Cincinnati state, while studying in the field of Business / Marketing. After his time at Cincinnati state he hopes to commit to a division one college to further his soccer career and obtain a degree in Business. Some of the schools Reid would like to attend after Cincinnati State include: Louisville, South Carolina but ultimately he would like to play for the U.S. Naval Academy.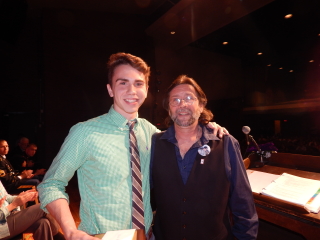 Monroe High Schools Ethan Jeffers
                Ethan Jeffers will graduate from Monroe High schools in 2015. He played Varsity soccer and Basketball for 4 years at Monroe. He also enjoyed going to schools and learning new things each and every day. Ethan will continue his education and his soccer career at Asbury University in Lexington KY.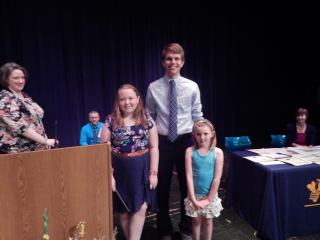 Loren Opbroek
Bishop Fenwick High School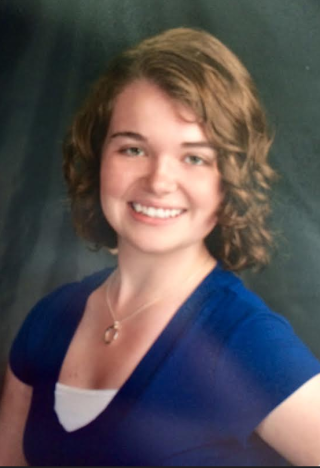 Loren Opbroek is currently enrolled at the University of Cincinnati for electrical engineering. She strives for success and is a determined worker. There is no obstacle she can't overcome. Loren is an expert with communication and is a very abatable person. She has been in many sports and clubs such as; swimming team, bowling team, drama club, key club, ecology club, mission club, Fenwick for life club, tech club and much more. She works well on teams, as well as individually. She has a lot of service experience and enjoys working with people. Loren always has a positive attitude and encourages others to be their best selves. She is an inspiration to others and looks up to many important people in her life as well.
She enjoys making videos and creating projects to keep her busy in her free time. She also works many days a week as a Kings Island Games Supervisor for her job. There she works with many children in the kiddy land, making their day by giving them prizes. Making others smile is one of her favorite things.
Robert Marusko
Springboro High School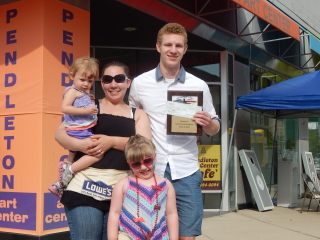 Robert Marusko, a senior at Springboro High School, has played soccer since he was 7.  He has played club soccer, two seasons of JV soccer, and has been a varsity soccer athlete for the past two years.  This past season he had the privilege of serving as varsity captain for the Springboro Men's Soccer team.  When not on the field, he serves in the community through volunteering at Kettering Medical Center and through local programs such as TOPSoccer and Volunteer Swim Coach, programs that help inspire children with mental and physical disabilities to reach their goals through athletics.  He is an active member of the National Honor Society, and his passion for helping others has led him to pursue a career in either the medical field or in dentistry at Florida Southern College this fall.
2014 Recipients Bio's and Picture
 Chase Crawford – Monroe High School
Megan McGrew – Franklin High School
Alexa Wene – Lebanon High School
Spencer Christian – Springboro High School
Maggi Gibbs – Middletown High School
2013 Recipients Bio's and picture
Brooke McNerny – Monroe High School
Rionna Horton – Franklin High School
Katerina Stroplos – Lebanon High School
Ashley Nola-Marie Revels – Springboro High School
Bryce Weidle – Middletown High School

Brooke McNerny – Monroe High School

My name is Brooke McNerny. I am the 2013 recipient of the James C. Robinson Jr. Memorial Scholarship from Monroe High School. I have attended Monroe High School for two years where I graduated with an honors diploma. I participated in varsity soccer both years and have received recognition through both the Southwestern Buckeye League Principal's Scholar Award and the Ohio Scholastic Soccer Coaches Association Academic Excellence Award. I started playing soccer at the age of eight in a SAY league, but quickly advanced to select soccer and then club. I played my U-18 season with the Ohio Elite Soccer Association. In the fall I will attend The Ohio State University and major in Biology with a minor in French. I will study in the Pre-Medicine program and later attend Med. School in hopes of becoming an anesthesiologist. After my education, I plan to practice medicine as a traveling doctor. This scholarship has enabled me to further engage in extracurricular, contribute to my community, and enhance my collegiate experience. I am sincerely grateful to the Shabooms Inc. scholarship fund for supporting me in my academic journey and future success.

Rionna Horton – Franklin High School

My name is Rionna Horton, Im 17 years old and I currently attend Franklin High School. I am a senior who is active in soccer. I have played soccer for 14 years. I spent most of my time playing for Corpus Christi Soccer Complex in Cincinnati until I just recently started playing for Franklin High School. I've played almost every position but for club soccer I mainly played midfield and now for high school soccer I playsweeper. I live in Cincinnati, Ohio and after graduation I plan to continue my education at Kent State University studying Criminology ( Law and Justice ).

Katerina Stroplos – Lebanon High School

I was born and raised in Lebanon Ohio. I am the middle child. I have an older sister and a younger brother. I attended Lebanon Christian School uptill 7th grade, then transfered to Lebanon Jr. High School. Through high school, I have taken AP and Honors courses such as U.S. History, English, Government, and Biology. I participated in Future Business Leaders of America, Academic Quiz team, and Fellowship of Christian Athletes. I was a mentor for the underclassmen. I have volunteered at the Ronald McDonald House, participated in the Congenital Heat Disease Walk, and have helped with many church service projects. I worked for Moore Opportunities, helping kids with disabilities set and achieve specific goals. I am currently working as a teller for LCNB National Bank. In August I will be attending the University of Cincinnati, studying Biology, Pre Dental.

Ashley Nola-Marie Revels – Springboro High School

Ashley Nola-Marie Revels has lived in Springboro nearly her entire life. Attending Springboro High School, she always kept active. She played soccer, basketball, and track. She even helped to break several school records in track and was named to the Second Team All Conference. She was also named the Sprint Most Valuable Player for her team. Ashley was a member of the National Honor Society, Academic Team, Club Med, and Student Council among many other activities. She also spent time working and volunteering during her summers and weekends. In school she took multiple honors and advanced placement classes, graduating with Honors. She is excited to be attending the University of Pittsburgh to study neuroscience in the fall of 2013. She would like to thank the Shabooms staff for awarding her this generous scholarship.

Bryce Weidle – Middletown High School

Bryce Weidle is a graduating Senior from Middletown High School who plans to attend the college of business at the University of Alabama in Huntsville starting this Fall, where he intends to earn his Bachelor's degree in acquisition management and possibly spend time co-oping at the Army National Guard Armory while he earns his degree.
2012 Recipients Bio's and picture
Andrew Shaffer – Monroe High School
Erik Vanlandingham – Franklin High School
Carolyn R. Serbinski – Lebanon High School

Andrew Shaffer – Monroe High School

My name is Andrew Shaffer. I was borne in Dayton, Ohio and lived there until 1998. My family then moved to my current home in Monroe, Ohio. I attended Geckelers preschool in Middletown, Ohio. After preschool, I went to John Xxlll from kindergarten through eighth grade. I then switched schools and became a student of the Monroe local school district. While attending Monroe I have been involved in the Hornet soccer program since my freshman year and the Hornet football program since my sophomore year. My senior year as a member of the Hornet soccer team was the most rewarding of all my years. The team made it to the third round of the division 2 bracket only to lose by a score of 1-0 to state champions Dayton Carroll. This is the first time in school history that the soccer team has made it to the third round of the division 2 bracket. This year by far has been the best year, and I have many great memories that will last a lifetime.

Erik Vanlandingham – Franklin High School

My name is Erik Vanlandingham and I want to thank you for giving me the Sgt. James C. Robinson Memorial Scholarship in honor of your son. I have been playing soccer 15 years now for either a Franklin Say Soccer team or on Warren County United. I am a center midfielder for the Franklin High School varsity team and have been since my freshman year. I have lettered all four years of high school for soccer and have a senior letter for football and track. Some of my soccer awards include Franklin Player of the Year, 1st team SWBL, 2nd team District, and four years of Honorable Mention. For football, I earned 2nd team SWBL and I obtained four school records which are: most points by a kicker, most field goals in a season, most field goals in a career, and most field goals in a single game. I am going to be a college level kicker at Bluffton University where I will study Athletic Training. Thank you for your generosity and the service that your family has done for our country!

Carolyn R. Serbinski – Lebanon High School

Carolyn R. Serbinski is the oldest of four children being raised by her single mom. Carolyn has a passion for learning and helping others. She carried a full schedule of classes during her four years at Lebanon High School. Her love of science led her to enroll in Physical Science, Biology, Honors Biology II, Anatomy and Physiology, Chemistry, and Honors Physics (followed by the Advanced Placement testing). She also participated in multiple extracurricular activities and took on many leadership roles; four years in Student Council (two as Class President), a member of National Honor Society and Spanish National Honor Society, Warrior Way Club, International Club and Intramural Sports . She was active in fund raisers for Relay for Life, Leukemia Foundation, Pennies for Patients, and organized Wrestle for the Cure. Carolyn works diligently on every task laid before her. She feels incredibly blessed to have the opportunity to further her education at theUniversity of Cincinnati in the fall of 2012.